A note from the winner of our Good Practice Awards, 2023
Abbie Freel is the Personal Development and Wellbeing Lead at Ormiston Herman Academy in Great Yarmouth. OHA was one of the 15 schools participating in a pilot last year to trial an adapted version of Lifting Limits' Gender Equality in Schools programme, which will enable us to scale our work across the country.
Abbie is also OHA's Gender Champion and spearheaded the roll out of Lifting Limits' Gender Equality in Schools programme at OHA, winning the school the accolade of Good Practice Award winner 2023. Abbie has kindly taken a moment out of her busy schedule to share how they ran the programme at OHA….
---
Training and School Audit
At Ormiston Herman Academy, we were excited to take part in the Lifting Limits programme as it fit perfectly with the academy vision. Being part of the Lifting Limits programme allowed us to expose our children to a wide range of role models from both genders.
The gender champion training was really eye opening and as a result, I really noticed the 'gender wallpaper' that children are exposed to in everyday life. The training really highlighted how gender stereotypes that are ingrained from a young age can have a huge impact in all aspects of later life.

"Our Vision is for all children to acquire knowledge, skills and
understanding that will contribute to them becoming motivated and
aspirational young people.

The Lifting Limits programme has allowed us to enable this vision by
breaking down gender stereotypes and empowering all of our children
to believe that they can achieve whatever they want to, without any
gender barriers."

Mrs Kristy Redhead, Principal
The initial staff training was well received by our staff with lots of staff commenting on how they now recognise their unconscious bias, particularly around language use. Phrases such as 'strong boys' and 'helpful girls' easily slip out, but the training showed how this can be perceived and how it can reinforce gender stereotypes.
We used Lifting Limits' Gender Audit tool to review the academy and noticed that genders were not necessarily represented as equally as they could have been. We also gave more consideration to pre-published resources and how, at times, these unintentionally reinforced gender stereotypes. This led us to create our own visual timetables symbols and emotions cards, improving gender representation on all cards.
---
Implementation
Lifting Limits provided us with a wide range of useful and informative resources:
The assemblies were well received by children and staff and fit in well with events that happen in the school year, such as World Book Day and Anti- Bullying Week.
The lessons that were provided could easily be fit into the curriculum, or adapted where necessary. Our knowledge organisers had previously been very male heavy. The lessons provided introduced a host of engaging, refreshing and under-represented characters to the classroom.
We used the discussion cards numerous times throughout the year and they prompted some interesting and lively discussions. It allowed staff to see how the children's views had changed as a result.
The resources for the 'working walls' enabled key stage displays to be completed, with question prompts to encourage the children to really think about gender. "The display makes me think of things I haven't thought of before" said one Year 2 child.
The book lists pointed us in the direction of texts, old and new, that could be used alongside the lessons provided. "one teacher commented, I am more aware about of using inclusive language in the classroom and avoid steering children towards certain books. We now display a wide variety of books with more diverse characters."
---
Impact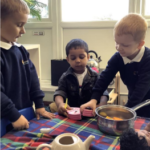 One of the key areas that improved as part of taking part in Lifting Limits, was the attitude of the children. They were much more confident in challenging adults on gendered language or when a stereotype was encountered.
One pupil commented "I notice gender stereotypes everywhere now… in the books we read, and films, they are everywhere". Another also commented on how she wanted to write her own book which featured characters that challenge gender stereotypes.
As part of National Careers week, we created some 'ambassador' roles. The children decided that a 'gender ambassador' was needed within the academy. As part of their role, they promoted respect between genders and ensured the environment promoted gender equality.
"It is important to have gender equality and equal rights within our school. I like the responsibility of being able to give everyone an equal chance whilst being part of the school's rules and being able to set a good example. Whilst many stereotypes still exist, my aim as ambassador is to show that stereotypes are not always correct and to raise awareness as to anyone can do anything!"

Dylan, Gender Ambassador pupil at Ormiston Herman Academy
We were greatly supported by Lifting Limits. Any questions were quickly answered and being part of virtual network meetings allowed us to share good practice and gain ideas on how to continue to promote Lifting Limits in our school.
---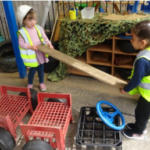 What's next for OHA
As we move forward, we are going to continue to ensure our environments are promoting a diverse range of role models, as well as not reinforcing gender stereotypes. All staff are much more aware of the language used and selecting texts to use within lessons.
We are hoping to work with the wider community to spread awareness on how to promote gender equality.
Lifting Limits has allowed us to continue working towards preparing our children for the next stage of their education and beyond.
---
"Pupils enjoy attending Ormiston Herman Academy. They are
enthusiastic about the opportunities provided by the school. Pupils
enjoy after school clubs. They also enjoy how they are involved in
school council and new roles being developed, for example gender
ambassadors"

Ofsted, March 2023