Stories offer vital opportunities for children to make sense of the world around them, and children will come across stories and storytelling all the time, in books, TV programmes, films, online videos and video games
---
In books, there are often stereotypes of 'good girls' and 'brave boys', including male characters speaking twice as much as female characters; or most of the animal characters being male.
A review of the top 100 picture books of 2018 by the Observer newspaper found that:
The lead character was twice as likely to be male
Only 2 books showed Black and Minority Ethnic girls in central roles
Male characters spoke nearly twice as much as female characters: when characters spoke in the story, 35% were female and 65% were male.
73% of non-human creatures given a gender were male
In one school we worked with, they did an exercise of pulling out all the books in the class that had girls in them and then they took away the books where the girls didn't have any lines and they were left with 3 books.
"We pulled out all the books that had girls in the book and then we took out books that had girls without any lines, and then we ended up being left with three books."

Teaching Assistant
This video shows a similar exercise with a home bookshelf, and was made by the creators of the book, "Good Night Stories For Rebel Girls". It says it's for girls and daughters, we think it's for everyone!
---
When reading picture books
Ask children to consider what the pictures say about gender roles – for example where gender is not clearly specified in the story or text, do the pictures allocate or imply a sex and gender role?
What do pictures suggest about how female and male characters should look or behave? For example, are female animals marked out with a pink hair bow or exaggerated lips or eyelashes?
Books that do show obvious gender stereotypes can be used as points for discussion to help children to learn about stereotyping, we are not suggesting that books with a gender bias should not be read!
---
Book lists
Click on the images below to see each book list.
Books for children aged 2-5

Books for children aged 5-7
Books for children aged 7-11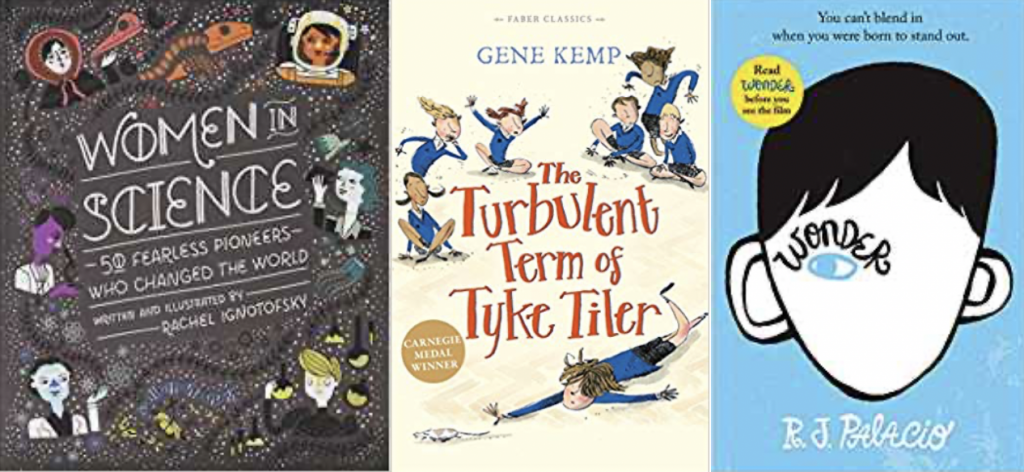 Non-fiction and colouring books

Books for parents & carers

Lifting Limits works in partnership with Heath Educational Books, a specialist school book supplier.  Heaths are offering discount on all the books on our book lists whether you are buying a few or a whole bundle.
Click on the links below to access the discounts.
Heaths has over 30 years' experience sourcing and supplying schools with all the library, reading scheme and textbooks they need and are home to the largest school book showroom in South East England which boasts 50,000 titles organised by subject area and key stage.
As an independent bookseller to the educational market, Heaths prides themselves on being able to give honest, impartial advice to customers, as well as prompt and accurate fulfilment of orders. They are easily reachable at the end of the phone or via email and are always happy to help find the right resources for you.
If you would like any advice on books, please do get in touch with Heath Educational Books.
---
Further book lists
We also suggest you look at these websites for other suggestions of books that challenge gender stereotypes:
Letterbox Library, This is Book Love and Little Box of Books specialise in children's books that champion diversity and inclusion: when buying books, it's often worth seeking out great independent bookshops to support, particularly during the Covid-19 pandemic.
---
Explore more resources
Find out more