For all of us, the school closures and subsequent 'lockdown' in late March have meant a huge change. Lifting Limits exists to challenge gender stereotypes in schools, and the week of the closures we were due to run workshops for parents and carers in four schools. Although most of our programme is aimed at teachers, we immediately made some resources for parents and carers available to the 19 schools who are working with us.
The Covid-19 pandemic has already had a disproportionate effect on women, and we know policy makers are already looking at what our world will be like after this pandemic – how will gender dynamics play out in our 'new normal' and what can be done to ensure that a 'gender lens' is applied to decisions around public spending, healthcare, education and more.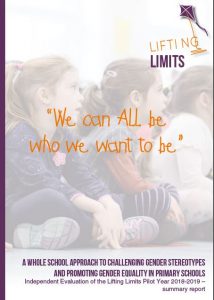 We know from the evaluation of our pilot, that our model of a whole school approach works successfully to change attitudes, awareness, aspirations and confidence in staff and pupils, and that the evidence shows we need to put those foundations in place as early as possible. We have therefore now adapted and extended some of the activities we offer so that families at home can use them. We are making them available for free to any family: with children being out of the classroom, we want to ensure that children and families have the tools and knowledge to challenge gender inequalities, ready for the post-Covid-19 society.
Some of the resources reflect what we might offer in our workshop for parents and carers: our guide for families; videos that explain how boys and girls are unintentionally treated differently; a brief explanation of how gender stereotypes play out across books and TV; how gender stereotypes matter because they can limit all children's choices, behaviour, aspirations and achievements.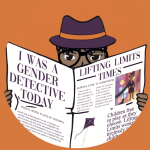 The Gender Detective activities are an extension of some of our in-school resources, adapted to be done at home or possibly on your daily Covid-19 walk. Children are given the chance to identify gender stereotypes in the books they read, the TV and videos they watch, the adverts they see and hear, and in the language that is always around them.
We have put together five book lists, mainly recommendations of children's books that challenge gender stereotypes, but also suggested reading for parents and carers. The lists are in no way exhaustive and we know others have compiled great lists already so we link to those too, as well as to other organisations we know and trust who offer good advice for parents on raising children without stereotypes.
We'd love feedback on how these resources work for parents and carers who are at home with their children. We are also asking for donations to reflect the work we have put into these resources: we hope to be back in schools soon and we need funding to ensure more schools can join our programme.